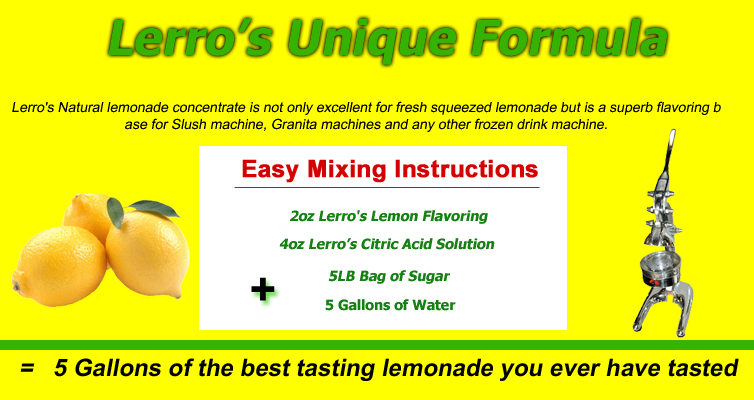 SAVE $$$ ON LEMONS WITH OUR UNIQUE LEMONADE FORMULA
Mixing Instructions: Using a 5 gallon beverage dispenser add 2oz of Lerro's Lemonade Formula, then add 4oz of Lerro's Citric Acid Solution. Fill 5 gallon dispenser half way with drinkable water, then add 5lb bag of sugar, mix well, then continue filling dispenser to the 5 gallon mark with water. Lemonade is now ready to serve!
Serving Suggestion: Cut Lemons into thirds then Squeeze into a 16oz or 24oz cup using a Lemon Press. Add Ice, and fill cup with the Lemonade Formula from sealed Dispenser, Shake & Serve.
Suggested Serving Price:
16oz Lemonade Wax Cup Serving - $3.00 -$4.00
24oz Lemonade Wax Cup Serving - $4.00- $5.00
32oz Lemonade Plastic Cup Serving - $5.00 -$6.00
*Cost Per Serving: ---------------Net Profit
16oz Serving - $.46 * ------------ $2.54 / $3.54 per cup
24oz Serving - $.54 * ------------ $3.46/ $4.46 per cup
32oz Serving - $.81 * ------------ $4.19/ $5.19 per cup


Strawberry Lemonade Flavoring is now available. Just add 2oz to each 5 gallons of Finished Lemonade Product.

* Cost per serving includes Formula, Cup, Lemon Wedge, and Ice. Prices may vary based on style of cup purchased.

CLICK HERE TO ORDER NOW